Welcome to The Great British Bake Off wikia portal, your best resource for everything related to the popular British reality show.
Read about the show's hosts, contestants, recipes, and more. This portal is open for anyone to edit!

Here is a selection of bakers from Series 4 of The Great British Bake Off.
Click here to read about more of the GBBO bakers from Series 1,2,3, and 4!

The Great British Bake Off contestants come up with a wide variety of original recipes that are available online for YOU to try. Here are some fun, decadent recipes that are perfect for the Spring/Summer months. Enjoy!
Click here to check out more GBBO recipes...



Thirteen bakers take part in a 'bake off', which will test every aspect of their baking skills as they battle it out to be crowned the Great British Bake Off's Best Amateur Baker. Four series have aired of
The Great British Bake Off
. Series 5 begins in 2014.

Frances is a clothes designer by day and a baker by night and has a design concept for everything she bakes.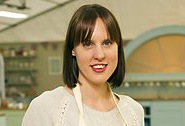 She has been baking since she was five, and has grown up inspired by the stories that surrounded her in her parents' bookshop. Her favourite things to bake are creative cakes full of flavour and flair, and her quirky cakes are always in demand by her friends and family. She won Series 4 of The Great British Bake Off!
Are you going to tune in for Series 5?

Loading RSS data...
[Template fetch failed for http://community.wikia.com/wiki/Template:UKRealityWikias?action=render]
Ad blocker interference detected!
Wikia is a free-to-use site that makes money from advertising. We have a modified experience for viewers using ad blockers

Wikia is not accessible if you've made further modifications. Remove the custom ad blocker rule(s) and the page will load as expected.